Green Chile Ham Quiche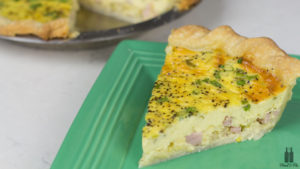 Prep time:
Cook time:
Total time:
6 eggs
1 cup whole milk
⅓ cup whipping cream (or heavy cream)
4 oz. ham, cut into small cubes
3 Tbsp. green chiles, chopped (mild or hot)
4 oz. Swiss cheese, grated
3 green onions, sliced
1 tsp. Salt
½ tsp. Pepper
1 pie crust, unbaked
Preheat oven to 425 degrees F.
Whisk eggs until well blended.
Add the salt and pepper. Whisk until blended.
Add the milk and cream. Whisk until blended.
Add ham, Swiss cheese, green onions, and green chiles. Stir until combined.
Pour mixture into unbaked pie crust.
Cover edge of pie crust with foil to prevent it from browning too much.
Bake quiche for 15 minutes.
Remove the foil.
Lower the oven temperature to 350 degrees F.
Bake quiche until set, approximately 30-40 minutes.
Allow the quiche to cool slightly before serving. If you plan to serve it later, refrigerate the quiche after it has cooled.